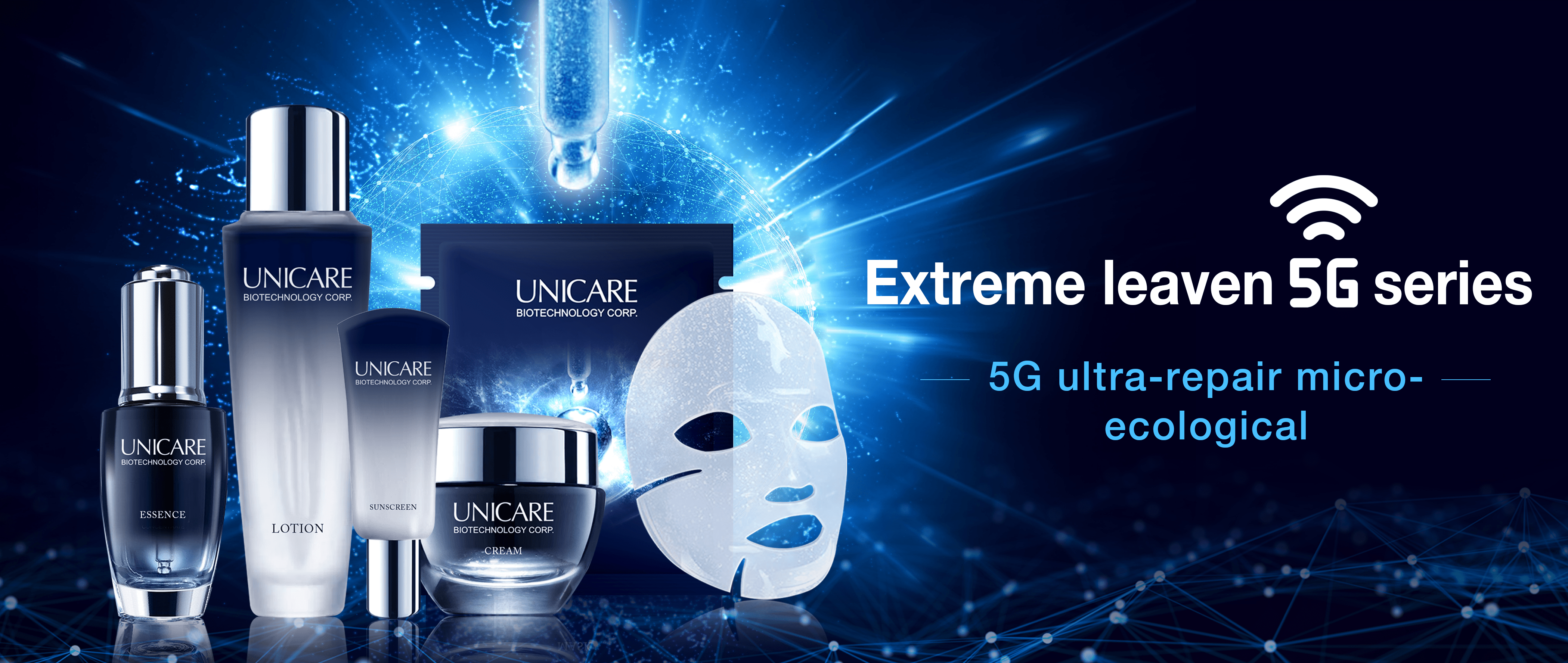 Follow simple 3-Step to design an exclusive probiotic skincare
Still worrying about how to design a set of probiotic skincare? Unicare provides you 5 options to help your brand quickly create exclusive products!
Most of counter brand and open-shelf cosmetics probiotic skincare is based on the repair. How to create probiotic products that can have repaired, brightened and anti-aging effects at one time? In sole technical collaboration with PITDC (Medical and Pharmaceutical Industry Technology and Development Center), Unicare developed the latest exclusive probiotic extract – UNICARE109. The efficacy of ingredients has been upgraded from basic moisturizing and repairing whitening and anti-aging. Then in sole technical collaboration with ATRI (Taiwan Agricultural Technology Research Institute), NEOTECEGF, which is contains repairing energy. That's the reason why unicare probiotic skincare has multiple effects.
5G Extreme leaven• Create a beauty ecosystem
Exclusive

extreme leaven skin care
Exclusive Probiotic Extract + Prebiotics, 1+1>2, Create a skin microbiome expert
Exclusive

pure high concentration

 
Exclusive probiotic extract to replace water, with Prebiotics + Exclusive EGF, Up to 95.5% concentration
 5G

extreme leaven upgrade skin condition
Solve 5 major skin problems
Exclusive

Probiotic Extract

.

Create a skin microbiome expert
From

repair

to

balance of skin flora
the metabolites of probiotics
95.5%

high concentration
.

replace water

with effective activity
2 exclusive ingredients

create new high concentration series
Probiotic extract 
replace water
Selected prebiotics 
provide beneficial nutrients
Exclusive EGF 
repair damaged skin
5G

extreme leaven improves skin condition
⎯  5G ultra-repair micro-ecological  ⎯
G1 Extreme Leaven Lotion-radiance for greater vitality
G2 Extreme Leaven Essence-efficient maintenance for translucent-looking skin
G3 Extreme Leaven Mask-hydrated and full of energy
G4 Extreme Leaven Essence Cream-keeping your skin looking healthy
G5 Extreme Leaven Essence Sunscreen-protection of skin from UV radiation
balance micro-ecosystem of the skin
G2 Extreme Leaven Essence
revitalize the ecological power of skin
G4 Extreme Leaven Essence Cream
ecological circulation of beautiful skin
G5 Extreme Leaven Essence Sunscreen

Quality Product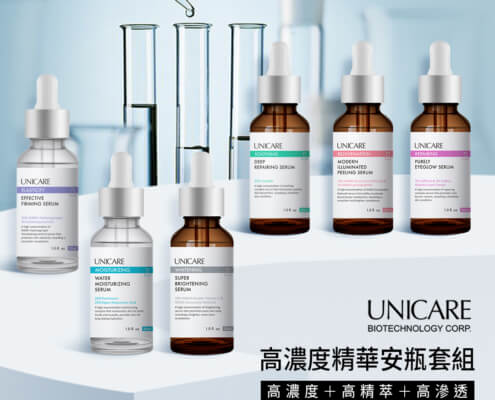 https://unicare.com.tw/wp-content/uploads/2022/05/FBIGLINE@-1080X1080_高濃度全系列.jpg
1080
1080
UNICARE
https://unicare.com.tw/wp-content/uploads/2021/10/unicare_web_logo001-2-5.png
UNICARE
2022-05-05 11:28:57
2022-05-05 11:59:08
High Concentrated Daily Ampoule Serum
UNICARE BIOTECHNOLOGY CORPORATION
Add.: No. 16, Wugong 6th Rd., Wugu Dist., New Taipei City 24891, Taiwan (R.O.C.)
Tel.: 886-2-2298-0799
Fax.: 886-2-2298-0766
Email:global@unicare.com.tw